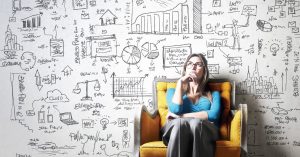 My guess is if you're reading this article then you're looking for an edge to get out of an escape room as fast as possible. Even better if you're competing with other team(s) then you want to win 1st place! Here's another escape room cheat from our series that should help.
My business partner and I have been running BustoutColorado, Colordo's only mobile escape room, for almost 4 years now. The vast majority of our clients are business teams and there are clear patterns for success in the escape room, which coincidentally translate nicely into the business world.
This escape room cheat focuses on not overthinking the escape room and analogously how it applies to not overthinking challenges in the work environment. Our goal is for teams to have FUN, but also offer food for thought to participants when they return to their desks after the escape room event.
To start off, if you don't understand the concept of an escape room and how they work then please see one of our other articles on this website's Articles page for an overview. Assuming you know how they work then let's move on.
In any quality escape room you and the team will get stuck at some point. What fun is it if there's no challenge? So assume you will get stuck, maybe more than once. At this point you're all likely going to likely get frustrated or anxious as the clock counts down.  This is a critical moment for the team. Some teams double down on "working harder" or just try random crazy solutions and overthinking sets in.
Here's our advice:
Don't let yourself or your team get triggered – BREATH! Slow down for a moment to regroup. If you don't breath then the fight or flight part of our brain starts to take over and productive ideas slow way down. Get everyone together and hit the PAUSE button.
Our culture equates "doing" with progress and success, which is false. As your team is paused think at what you're overlooking. What things stand out. Here's a secret – most escape room solutions come when you put two or three things that stand out together. So, what stands out that could be combined SIMPLY.
Most escape rooms have lots of false leads to create noise and waste your time. Be logical, noise is typically something that looks interesting but is a needle in a haystack, e.g. lots of books or magazines, be smart about what you spend time on
Last, don't be afraid to verbalize that you (maybe the team too) is lost. No one wants to be seen as needing help but sometimes it's the smartest move and keeps the team from getting frustrated and entering the overthinking. Be vulnerable.
So how do these apply to business – come visit our escape room in Colorado and find out! Here's some teasers:
Have you ever gotten triggered by someone or something at work. BREATH and pull back.
When you're stuck on a problem how often do you stop and go for a walk to regroup and get new ideas. How long does it take to realize you're stuck in the first place?
Have you ever found yourself wasting time chasing random ideas, unproductive email threads, flashy quick fixes that turn out to be a waste of time? Stop and strategize.
Do you homework on a problem, try your best solutions, if nothing works don't be afraid to ask a mentor for help explaining to them what you've already tried.
We hope this escape room cheat was useful but more importantly we hope you'll apply it to your work context as well – BustoutColorado Escape Team