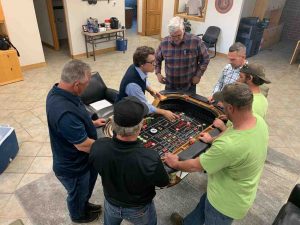 At Bustout Colorado, Colorado's only Mobile Escape Room, we're always looking to take a great thing and make it better. We've had tremendous success bringing our Mobile Escape Room into the corporate environment and exploring the parallels between the Escape Room best practices and Corporate best practices. The similarities are striking. Therefore, we wanted to extend the concept and see if we could replicate the learning experience using other Team Building events, specifically Craps and Texas Hold 'Em. We knew we were swinging for the fences but after some persistence and creativity we've proven they work amazingly well!
At BustoutUSA, our sister company, we began offering a Craps event and Texas Hold 'em event in early 2019. Companies already riding the success of the Escape Room experiences were eager to give it a try. This article focuses on the Craps event and shows the parallel lessons with the Escape Room as well as the new insights unique to Craps.
Here's what we learned:
By far the most striking parallel was what we called the "What have you done for me lately" effect that seems to plague our Western Culture. When someone is on a hot streak at the Craps table then we jump in behind our new "best" friend and draft our way to big gains. Then once they go cold no one remembers their streak and they're on to the next hot shooter's coat tails. It ws amazing how fast people turned. In business and sports you're only as good as your last score and no one remembers any long term success. That's an unfortunate comment on our culture.
Next we noticed the parallel between the flashy and alluring "sucker bets" on the Craps table and how we favor the quick win in the corporate world. Look at a Craps table and notice what parts stand out the most as SEXY. Then ask any knowledgeable player and they'll tell you the SEXY bets have the worst odds on the table.  If you want to win at Craps you have to go for the tried and true methodical betting pattern. If you follow that path your odds are better than any other casino game. In the real world we're so busy we're always looking for any possible shortcut and quick win that we defer the real work that will actually get us the corprorate win.
Last, Craps is perceived by most to be hideously complex. We see event participants shy away from the event entirely, largely because they don't want to look stupid among  their peers. Same with the Escape Room, no one wants to look dumb. Yet nothing risked nothing gained. Once people commit to learning the basics of Craps they realize the normal path of play is relatively simple, easier than poker, and their perceptions were misplaced. It takes a leap of bravery to try something new. Depending how our work environment treats failure we may have an artificial barrier to trying something new that might actually benefit us.
What's a common strategy game you could try to simulate the work environment or if you're in Colorado give us a  call and we'll blow your socks off with our new Craps experienc
– BustoutColorado / BustoutUSA Team